The Bulgarian winter resorts are ready for the new season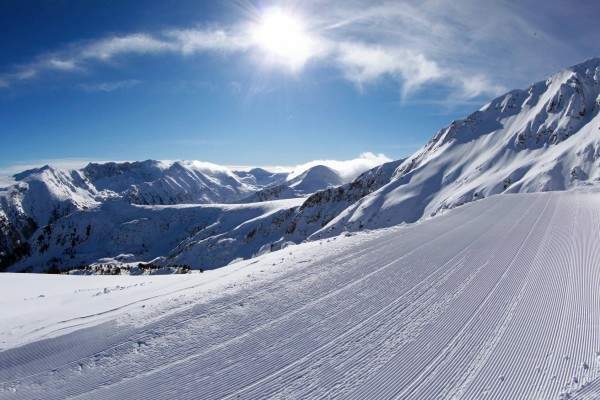 Although the weather is still warm for skiing, the Bulgarian resorts are ready for the new winter season 2015/2016.

The resorts are ready for the new season
The first news coming from the Pamporovo Resort, where a new 4-chair lift will replace the old one "Dvata mosta" ("The two bridges") during the new season. The length of the lift trace is 1300 m and it will transport about 2000 people per hour. New direction boards are placed on the slopes, and the snow machines is already 200. There will be periods with special offers during the whole season, also discounts for children and students. The lift-cards' prices keep the same levels like the previous winter. The FunPark Pamporovo continues to expand its activities with the third line for beginners. The resort is well-known with the good conditions for first skiing lessons. There is a separated area, where snowboard training will be led.
The first big event in the resort's calendar are the two women's alpine slaloms on the 9th and 10th of February 2016, a round of the European cup. Next it's the world snowboard tour, named "Pamporovo Freestyle Week" in March – one of the largest events of that kind in Europe.
Borovets will celebrate 120th–anniversary next year. The place, named Chamkoriya in old times, is one of the most popular Bulgarian winter resorts today. On the slopes here some of the best results for Bulgarian skiing were scored – Peter Popangelov won here European Championchip in men's alpine skiing in 1977. During the new season Borovets also keeps the same prices for the ski zone, there will be half-day cards with lower prices. One of the famous hotels – "Rila" – will start the winter with a new look and after full renovation. In February, the resort will be a host of the rounds of the women's alpine slalom and grand slalom for European cup.
And Bansko – the mountain resort with most dynamic growth in South-East Europe – will start the new season on the 12th of December. A big audience is expected as usual – ski fans and global sports legends.  On the 18th of January – the world snow day – there will be a huge holiday for the kids and young skiers. They will have the opportunity to meet world ski stars Alberto Tomba, Marc Girardelli, Peter Popangelov and etc. The biggest winter event in Bansko will be the alpine Women's World Cup once again. From 28th of February to 1st of March they will compete in Super-G and alpine skiing super combined. The resort team assures there won't be changes for the lift-cards' prices during the new season.