The Return of the Sea Comets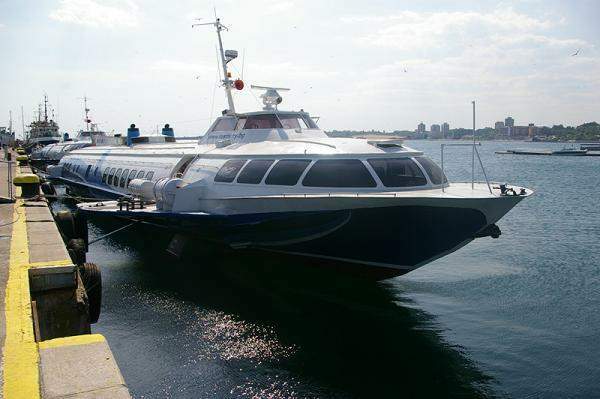 The older Bulgarians and those guests of the country, who used to come in Bulgaria during the last century, probably remember the "Comets"* – the legendary high-speed hydrofoil boats, which during the 70s and 80s of last century were crossing the Bulgarian sea coast. 12 of them were travelling every day at each two hours from Balchik to Tsarevo with up to 100 passengers on the board throughout the summer season – from early May to late September.
During the fateful 1989 the Bulgarian Navy stopped them from shipping as unprofitable and some of them were scrapped (the first "comet" became a disco in Obzor) and others were sold to foreign countries.
Now they are sailing in Black Sea again after 22 years of halt. Only two ships are sailing for now each day from Sozopol, Nesebar and Varna. The company Bulgarian Hydrofoil Ltd was the one which had restored the high-speed boat traffic, getting back to the people the familiar fast, convenient and enjoyable trip Both "comets" were bought from Greece, where they have used to sail between Kavala and Thasos.
The ships are 30 years old, Russian-made, but they had gone through full repairs. Their major advantage is the very strong hull, made of aluminum – magnesium alloy, which is almost eternal according to experts. The boats have passed the required technical inspection and meet the requirements for safe shipping, according to experts from the Maritime Administration and the Bulgarian Register of Shipping. Each ship has two engines with 1100 horsepower and a speed of 32 knots or 60 km per hour.
The distance from Nessebar to Sozopol is taken by the "Comets" for just 40 minutes. Except you are relaxing with this sea journey, you avoid the traffic on the road. The cost of one-way ticket for this route is 35 leva and from Nessebar to Varna is 50 leva.
Please see the timetable on the official website: http://fastferry.bg/
* "Comet" is a type of hydrofoil boat for shipping. "Comets" were produced in the former Soviet Union.