Metropolitan opera's classics are in the programme of the Varna Summer International Music Festival's anniversary edition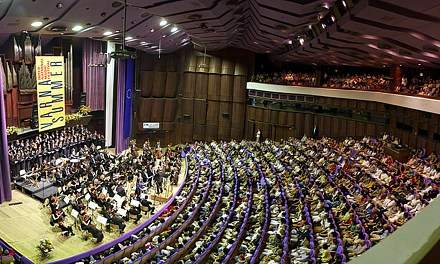 The opera classics "Othello" by Verdi and "Madama Butterfly" by Puccini will be shown on the screen at the Festival and Congress Centre in Varna broadcasted live from the Metropolitan Opera in New York. They are in the program of the two major international festivals of theater and music "Varna Summer", which will mark the 90th anniversary of the musical event.

The "Metropolitan Opera Live from New York" unique project will be shown for the first time to the Varna audience. The programme broadcasts performances on one of the most famous opera stages in the world for over 10 years, on more than 2,000 screens in 70 countries.
"Othello" is the first of two operas that the citizens and the guests of the sea capital will be able to watch at 7 p.m. on 13 June in Hall 1 in the Festival and Congress Center. The show will be subtitled in Bulgarian and English. Bulgarian opera prima Sonya Yoncheva will also attend the event.
The play is a modern interpretation of the famous opera by Giuseppe Verdi, conducted by the young and energetic Yannick Naise-Seguin and directed by Tony-winning Bartlett Sher.
The second performance of the "Metropolitan Opera Live from New York" dedicated to the 90th anniversary of the music festival is "Madama Butterfly" by Puccini. It will be broadcast on the 6th of September, at 7 p.m. once again at the Festival complex.
The legendary production of the famous film director and an Oscar-winner Anthony Minghella actually ceases to excite the audience from its first appearance on the stage of "Metropolitan Opera" in 2006 till now. A pantomime, traditional Japanese dolls, paper lanterns, a darkness suddenly burst into a bright red light – the show charms with its simplicity and audacity. The ticket prices for both shows are 18 BGN and 15 BGN for students and seniors.
The first musical feasts were held in Varna Summer Theatre from July 23 to August 1, 1926. The idea was actively supported by the Varna prominent figures Gercho Gerchev Ivan Kamburov, Vasil Stavrev, Nayden Naydenov, Yordan Todorov, in association with composers Dobri Hristov, Pancho Vladigerov, Maestro George Atanasov.
During seven nights eminent Bulgarian singers and musicians such as Christina Morfova Constanta Kirova Peter Zolotovich, Pancho, and Lyuben Vladigerovi, Liliana Good Christ took part in the event. One of the three symphonic concerts devoted entirely to the Bulgarian music. Dobri Hristov conducted for the first time his symphonic fantasy "Tutrakanska epopeya" ("Epic of Tutrakan") in his hometown.
The feasts were restored under the name "Varna Summer" in 1957. Almost a decade later conducted the world's first International Ballet Competition.  The Festival was established as an annual international event at the same time. Its history is described in the Rosemary Statelova's book "Summer of Bulgarian culture."