Bulgarian yoghourt is ranked to be the best milk product in US and is favourite in China
Bulgarian yoghourt was rank on 1st place in the United States for 2016 among the milk products, according to the ranking of Dairy Foods. Trimona yoghourt is produced by Atanas Valchev, who lives in New York.
The raw material is local but is used the Bulgarian yeast "lactobacillus bulgaricus" without adding of any preservatives and thickeners. More than 7000 votes are registered in the research. The participants had the aim to choose tenth best among 30 products, offered by the website Editors. The list includes also ice cream, cheese and milk producers.  Trimona is an organic product, made entirely by milk, without genetically modified organisms, gluten and sugar, writes Dairy Foods. The yoghourt's slogan says: "Let the greeks have their philosophers, leave the yoghourt to us". The product reached the final of the prestigious "Made in America" competition, organized by the famous TV presenter and businesswoman Marta Stweart. The product became a winner in the "Food, Agriculture, Sustainability" category.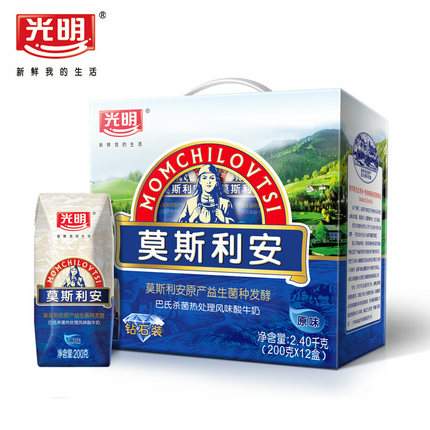 At the other side of the Globe, the Chinese company Bright Dairy has been producing Bulgarian milk products for seven years. Momchilovtsi yogurt has become a favorite brand of the Chinese. It is named to the Rhodope village in Bulgaria. Since its launch, the Chinese-Bulgarian product line won several international awards for hygiene and taste. To produce the Momchilovtsi label, China imports from Bulgaria the same yeast – "lactobacillus bulgaricus", the lactobacterium L99, which is widespread in the country's latitude zone. It induces natural milk-acid fermentation, which leads to the yogurt formation. The bacterium was first discovered and introduced in 1905 by Stamen Grigorov, a Bulgarian studying medicine in Geneva.
The village of Momchilovtsi is located in scenic Rhodopes Mountain. According to unsubstantiated accounts, the village is home to some of the world's oldest people, allegedly thanks to the local yoghourt.
The massive advertisement campaign of Momchilovtsi yogurt on the TV in China brought along in Bulgaria the photographer Jenff Chan who captured the natural beauty during his round trip around the country in 2016. He made a four-minute video which fascinates the web audience and collected over 168K views in just two months. Jenff Chan works on another short documentary that will be finished soon and shared online once again. Here's the video. You can come and made your own.
---