The Male Ice Horo Dance in Kalofer – a Candidate for UNESCO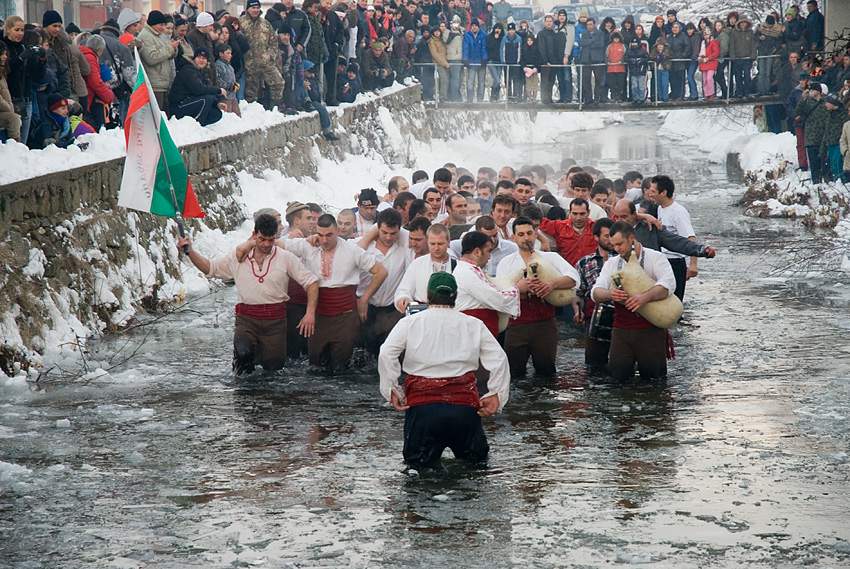 Due to an ancient tradition, the 6th of January is celebrated as Yordanovden (Epiphany) in Bulgaria. On that day John the Baptist converts Jesus Christ into the Jordan River. All people with names Yordan, Yordanka, Dancho, Bogdan(a), Borislav (a), Bozhan(a), Bozhidar(a) are celebrating their Name-Day, inviting close friends and relatives at home, with rich table.
A special custom holds annually on that day in the picturesque Bulgarian town of Kalofer. Local men, dressed in traditional folklore costumes, enter in the cold waters of the Tundzha River. They play a so-called Ice Horo Dance with the accompaniment of bagpipes and drums. And the Horo dance in its local varieties across the country is the most popular national dance in Bulgaria.
This ritual is common practice for ages, regardless the weather conditions and especially how low is the temperature of the river's waters. It is expected impatiently of local people, as well as of the numerous guests of the town, who arrived from all over the country. It will be the same in January 2017. All hotels and guest houses in Kalofer are booked months before the feast.
The Male Ice Horo Dance
traditionally precedes the Cross taking out of the river (also an Old Bulgarian tradition) and is preserved in its authentic mode so far. Namely for that reason, it will apply for entering in the UNESCO World Intangible Cultural Heritage List.
As it's known in that category of the world cultural depository are already included other emblematic for Bulgaria traditional appearances in the field of folklore and crafts: the acapella singing of the Bistritsa village grandmothers, the fire-dance upon embers, handy rug-making in Chiprovtsi, The National Festival of Bulgarian Folklore in Koprivshtitsa, Surva Feast in Pernik re-creating the homonymous mask custom. Among the new nominations are the traditional Bulgarian cuisine and the famous Rose Festival that gathers people from all over the world, annually between May and June.