The Golden Treasure of Nagyszentmiklos Goes on Display in Sofia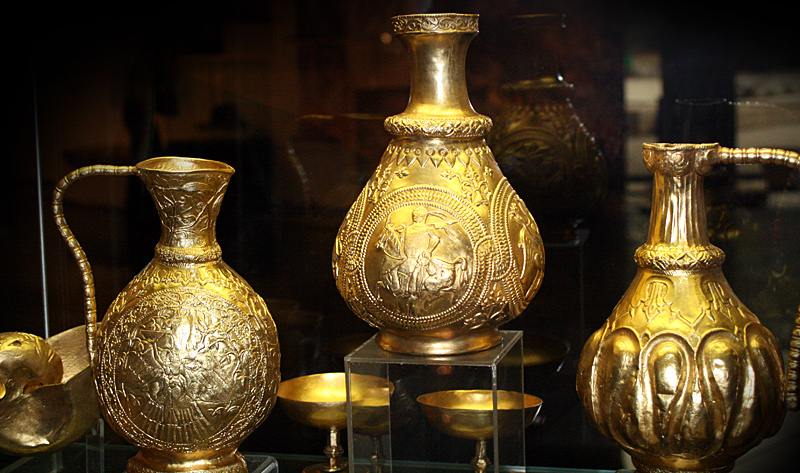 The Golden Treasure of Nagyszentmiklos, the largest known hoard of early medieval vessels, will be on display at Sofia's National Archaeological Museum between April 6 and July 9. The collection has left the lands of the former Habsburg Empire for the first time. It has so far been displayed in its entirety only in Budapest and Vienna.

The treasure includes 23 items, 22 of which are originals and one is a replicated cup and is part of the permanent exposition of the Art History Museum in Vienna. The items are made of gold of 20 to 22 carats, with two exceptions. All vessels were hammered, with ornaments engraved in deep relief.
The Treasure of Nagyszentmiklos was discovered accidentally by the Bulgarians Hristo and Kiril Nakovi in the Banat region of the Habsburg Empire in 1799. Its total weight is about 10 kg. After the brothers found the golden hound, they gave it like a gift to the emperor Joseph II. He made them noblemen as gratitude. There are different stories attended with the ancient treasure. One of the most interesting is linked to the Hristo's son – Sandor. He became a count and got married to a countess Teresia Festetic. By their story, the writer Mor Jokai created the novel "The Gipsy Baron", and Johann Strauss Jr. composed the operetta of the same name.
The treasure is remarkable for its quality and precision of craftsmanship. The engraved compositions are superbly consummate. Numerous studies have failed to definitively answer the questions about who owned the vessels. Some of them exhibit direct links to Christianity, while others are attended with an unknown mythology. Various theories have suggested that the treasure may be of Hun, Avar, Hungarian, Sasanian, Pecheneg, or Byzantine origin.
According to one theory, it is associated with the First Bulgarian State, probably with one of the rulers of medieval Bulgaria's northwestern Transdanubian region (today's Banat). Studies over the last few decades have revealed that the treasure was gathered over a long period of time, from the late 7th to the late 8th century AD, and seem to confirm its links to the Avar culture.
A supporting event will also be opened at the National Archaeological Museum on April 6 to highlight the context in which the Treasure of Nagyszentmiklos developed. The exhibition will be titled "Pagan Bulgaria: Power and Society". It will shed light on the culture and the development of Bulgarian society in Danubian Bulgaria between the 7th and the 9th century, when the state emerged as a major political factor.