An authentic Bulgarian wedding gathered together 5000 guests from 5 Continents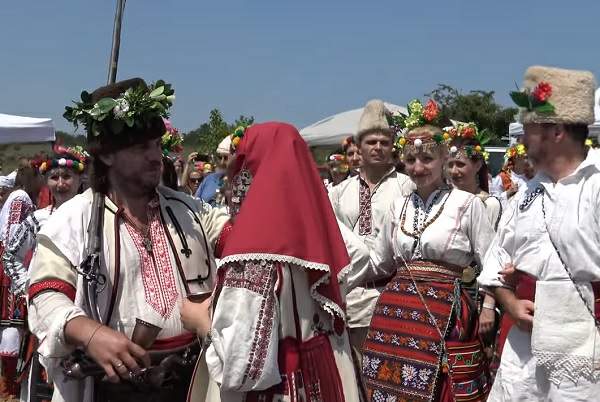 More than 5000 guests from five continents gathered together on the meadows near Arbanassi village to celebrate the biggest authentic Bulgarian wedding. There were Bulgarians from all parts of the country, and foreigners from 35 other countries – Iran, Moldova, China, Egypt, Argentina, USA, France, and etc.  3065 people were dressed in traditional Bulgarian costumes. The rest came to learn more about the local traditions.

The groom George Georgiev and the bride Iva Yancheva pledged each other in front of the thousands of people. They are a couple since many years, but they have chosen to make their wedding according to the ancient traditions.
The wedding rituals, typical of Northern Bulgarian region, continued three days. They began with a date on the village's fountain, a pilferage of the maid's posy and matchmaking in the Konstantsaliev House in Arbanassi.
The length of the feast table was about a kilometer and a half. There were 2 tones of wine, 2000 round loafs, 1 ton of white cheese. For all guests were provided clay bowls and wooden spoons as a gift from the honeymooners. The wedding applies for Guinness World Records book.
The wedding was the main event of the National folklore feast Bolyarska sreshta (Boyar's meeting) that was held between 21st and 23rd of July.